The Costumes that Made Christmas: Meet Me In St. Louis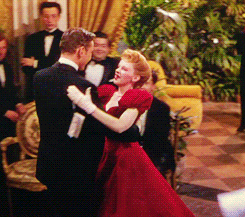 The typical 'boy next door' story that is exposed to elegant gowns and bespoke costumes.
The costume designer, Irene Sharaff, transforms the heroine Esther (Judy Garland), from a bubbly teenager into an elegant lady, all through the power of dress.
The starch collared pin-striped dress exudes her youth. The sports costume isn't very form fitting and it is quite bulky, and it is in this tennis dress that she attempts to kiss her sweetheart, however he resists.
This tomboy persona soon changes as Sharaff introduces a corset to Esther's wardrobe. Even though she protests: "I feel like the ossified woman in the sideshow,", it is in this moment that Esther has traversed into an unmistakably grown-up space – and Judy Garland alongside her.
 Judy needed to prove to people that she was not the whimsical little girl that Mickey Rooney portrayed her as in numerous movies. The corset was a good push to leading lady potential, yet it was the velvet ballgown that helped her mark her stance.
This turn of the century, Victorian style dress was composed of  a fitted boned bodice with a sweetheart neckline and puffed sleeves with a full red skirt. Twirling around the tree with her grandfather and into the arms of her lover meets all cinematic expectations and some would even say it's a tear-jerker.
Some more of our favourite outfits from the movie: